What would Halloween be without music? Okay, so it would still be Halloween, but not nearly as much fun. When October rolls around (and for some even September), doesn't singing along to your favorite spooky tunes while decorating, making costumes, and cooking up Halloween treats make Halloween a tad more, well, Halloween-y? This page will help you with that. Here are the lyrics to some of the best Halloween songs I could think of. Remember, you can always email me with suggestions for more lyrics!

I have now included Youtube videos for song sampling purposes, replacing the old background midi files. For more obscure songs, I have kept low quality sample wav files on pages without videos. I don't claim rights to the songs, and are just there for sampling purposes. If you own the songs, and wish for the samples to be removed, I will do so immediately.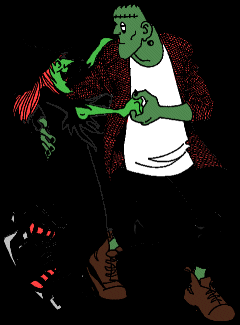 The Songs
Bless This House (Carol Ann's Theme)
Ghost Riders In The Sky

The Halloween Song

The Hearse Song

Highway To Hell
Hotel California

In Our Haunted House
Laurie (Strange Things Happen)
Monsters Lead Such Interesting Lives

October
Note: I know some of these aren't technically Halloween songs, but these are the songs I listen to around Halloween and they always get me in the Halloween mood :)

Is your favorite song on here? If not, email me!

Thanks to everyone who have sent in suggestions!