Yum! Here are some Halloween treats that are easy to make.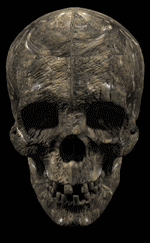 Cool Spider Treats
Ingredients:
Cupcakes
1 Tub (8 oz.) Cool Whip Whipped Topping, Thawed
Chocolate Sprinkles
Black or chocolate licorice
Candies

Preparation:
Frost upside-down cupcakes with Cool Whip Whipped Topping.
Sprinkle with chocolate sprinkles.
Insert licorice pieces into tops of cupcakes to create spider legs.
Top with candies for the creepy eyes (I find that black and orange M&M's are good :)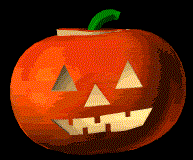 Lollipop Ghosts
*This is a fun crafty treat for the little ones!
Ingredients:
Lollipops (rounded heads like Tootsie Roll pops)
Facial Tissues and Ribbon (don't worry you don't eat these ;o)
Preparation:
Place one 8 and half by 8 inch white facial tissue on top of another (the bottom one should be placed as a square and the top one should be turned so it's a diamond shape). Place head of lollipop in center. Gather tissues around lollipop and tie with a ribbon. Draw eyes with felt tip pen.

Cat Cookies
Spread canned vanilla frosting on 1 side of a round chocolate cookie (like Oreos). Dab frosting on wide end of 2 pieces of candy corn. Stick on top of cookie to make ears. Hold briefly to secure. Press 2 green or orange M&M's for eyes. You can use another M&M or mini M&M for the nose. Then use black or chocolate licorice for the whiskers.


Candy Pumpkins
Using a tube of white decorating icing, pipe a line of icing on the narrow side of 5 orange slices (jelly candies such as Chuckles). Press slices together with icing in center to form a pumpkin. Squeeze a dab of frosting on bottom of a small green jelly bean. Set in place for a stem.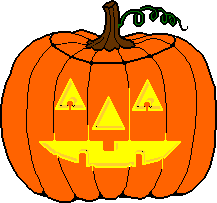 Spiderweb Cookies
Using a toothpick, poke a tiny hole in one corner of 2 unpleated plastic sandwich bags. Spoon about a half cup canned read-to-use vanilla frosting into 1 bag, 1/2 cup canned read-to-use chocolate frosting in the other. Push frosting into the corner with the hole. Squeeze vanilla frosting through hole in bag onto a 2 and 1/2 inch round plain cookie in a spider web design. Press a dark raisin into side of web. Pipe chocolate frosting "spider legs" on sides of raisin.
Ghosts in the Graveyard
Ingredients:
3 and 1/2 cups of cold milk
2 pkgs. (4-serving size) Jello Chocolate pudding and pie filling
1 Tub (12 oz.) Cool Whip whipped topping thawed
1 pkg. (16 oz.) chocolate sandwich cookies crushed (hint: crush cookies in zipper-style plastic bag with rolling pin or in a food processor)

Make pudding as directed on package using 3 & 1/2 cups milk; let stand 5 minutes.
Stir in 3 cups of the whipped topping and 1/2 of the crushed cookies.
Spoon into 13" by 9" dish. Sprinkle with remaining crushed cookies. Refrigerate 1 hour.
Decorate with candy, rectangular sandwich cookies(tombstones), and spoonfuls of whipped topping (ghosts).

That's all for now! Send your Halloween recipes to laura@laurashouseofhalloween.com